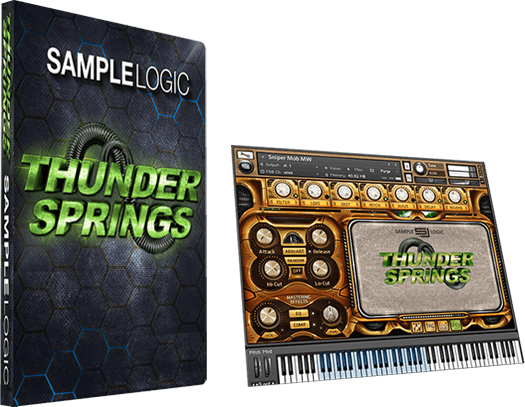 THUNDER SPRINGS: Trailer
Unique - Diverse - Inspiring!
DEMO TRACKS
All sounds are 100% Thunder Springs!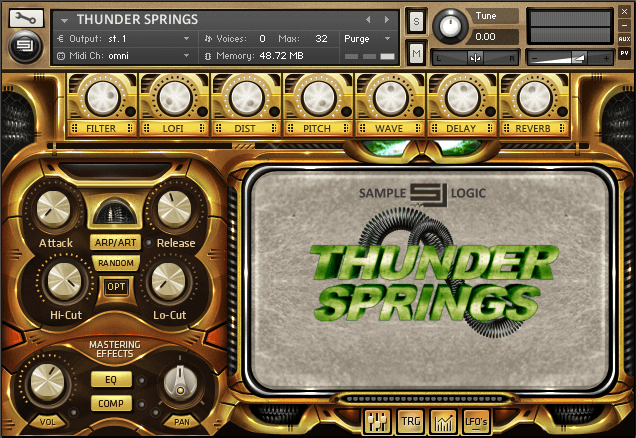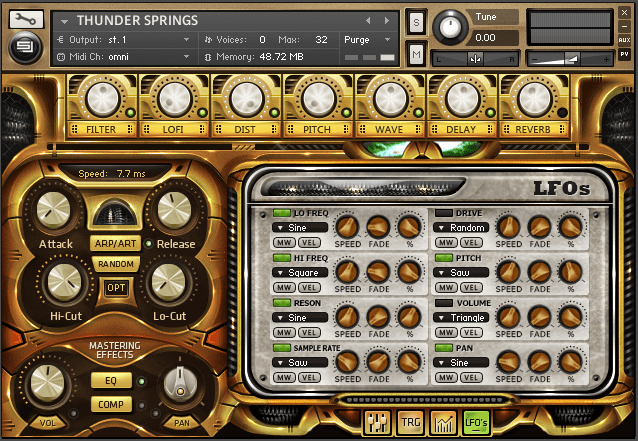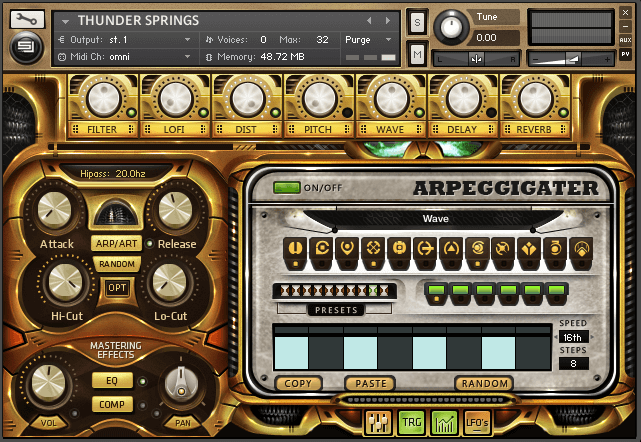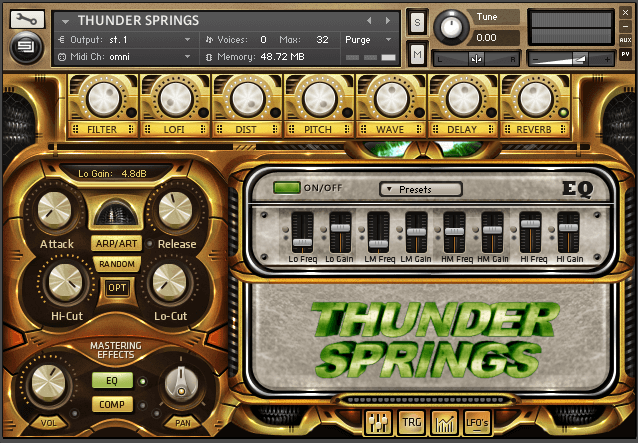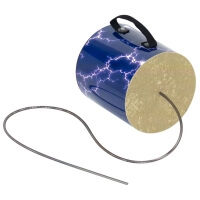 SPRING INTO ACTION!
THUNDER SPRINGS is a collection of 450+ rare and mutilated Instruments & Multis derived entirely from recordings of the signature cinematic sound of Spring Drums & Thunder Tubes. Weighing in at over 3GBs, THUNDER SPRINGS not only includes amazing, ready-to-play, psychoacoustically sampled Spring Drums & Thunder Tubes, but uses these instruments to enter into the morphed world of score-ready hybrid percussion. What are Springs Drums & Thunder Tubes? Spring Drums and Thunder Tubes are small drums with a long coiled spring attached. These percussive instruments are designed in multiple shapes and sizes that create unique timbres sounding like a blend between thunder, a gong, and a dijeridoo. In developing THUNDER SPRINGS Sample Logic was able to hunt down every size drum produced, many of which are no longer in circulation.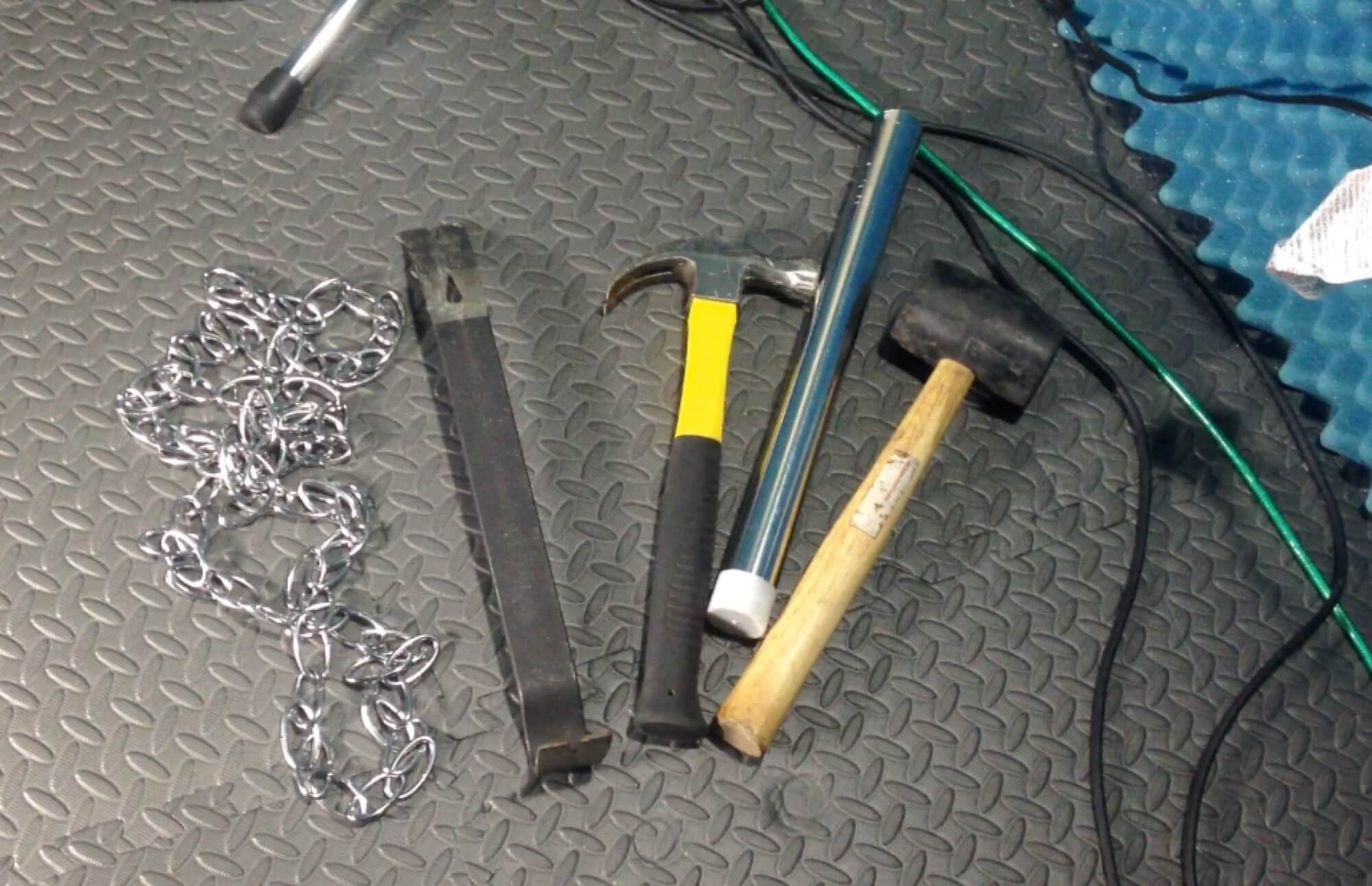 Unique, Diverse, & Inspiring
Sample Logic went well beyond standard performance and recording techniques with the Spring Drum and Thunder Tube instruments. Along with standard multisampling, they also used hammers, chains, crowbars, saws, and stretched the springs to capture insane timbres that have never been heard with these drums. From this material, Sample Logic was able to craft the finest dynamic and original acoustic cinematic sounds possible.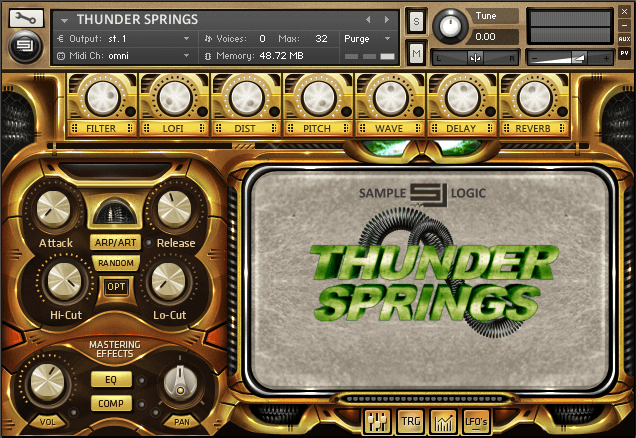 Mind-blowing User Interface
THUNDER SPRINGS spectacular user interface was designed with the composer and sound designer in mind, providing effortless control for complete user customization. The core of THUNDER SPRINGS is focused around the user experience, providing the freedom to infinitely transform samples into awesome twisted evolving instruments with endless possibilities.
The interface includes:
"Multi-core Effect Sequencers" for real-time effect automation
"Triggers" - 48 unique effect chains
"Arpeggigater" - sequencer based gate effect
A LFO section to make things wobble
"Wave" - additive synthesis engine
"Pitch" sequencer for quick and easy pattern based transpositions on the fly
"Multi Script Macros" for real-time sequencing of instrument parameter controls
System Requirements & Compatibility
Requires the full retail version of Kontakt 5.1 or higher (will not work in the free player version)
Mac OS X 10.7 or 10.8 (latest update), Intel Core Duo, 2 GB RAM (4GB recommended)
Windows 7 or Windows 8 (latest Service Pack, 32/64 Bit), Intel Core Duo or AMD Athlon 64 X2, 2 GB RAM (4GB recommended)
3 GB free disk space for THUNDER SPRINGS sample content
Tech Specs
Over 450 Instruments and Multis delivered at 44.1k/24-bit.
Just OVER 3 GB sample library using Kontakt's lossless sample storage compression
Requires the retail version of Kontakt 5.1
Native 64-bit support
Thunder Springs is incredibly useful for metallic moody ambiences, industrial sounds and metal impact hits. What's really exciting is that in addition to the well recorded traditional spring shakes and strikes, there is a vast array of carefully sound designed percussive kits and tonal instruments that open up all sorts of creative musical possibilities!
Thunder Springs is amazing!, a lot of very complex, multi-layered sounds full of so many different textures that explodes in your mix with just one key.
With Thunder Springs and Cyclone, Sample Logic has created two new libraries packed with a variety of interesting and original sounds. They've been a refreshing addition to my palette with plenty of options for tweaking.
Thunder Springs has a library diverse enough to cover a large array of instruments suited for any genre, and with the diverse and intuitive GUI, allowing in depth manipulation including LFO and stepper editing, it's easy to see how Thunder Springs is an obvious addition to any producer's Arsenal!
You will end up with a great sounding percussion library and a whole lot of tools to play with. There is practically a patch for a every occasion for the modern day composer and it won't be long before we hear THUNDER SPRINGS in most popular TV shows, movies or video games.